Want to learn more?
See our detailed review below
HONDA EU3000i HANDI BASIC SPECIFICATIONS

Inverter:

Yes

Fuel Type:

Gasoline

Running Watts:

2,600

Starting Watts:

3,000

Engine Type:

Honda GX160

Voltage:

120 VAC & 12 VDC

Length:

24.5" (62.2 cm)

Width:

14.9" (37.8 cm)

Height:

19.3" (49.0 cm)

Weight:

78 lb (35.38 kg)
As you can see in the table above, the Honda EU3000i Handi is an inverter type generator that runs on gasoline. It produces 2,600 running and 3,000 starting (or surge) watts.
This unit has both AC (120V) and DC (12V) outlets. Thanks to its compact size and small weight, the EU3000i is perfect for RVing, traveling, and recreation.
Before we move to our detailed analysis of individual parts of the EU3000i Handi generator, you should get your hands on the owner's manual. There's a lot of useful information.
Body of EU3000i Handi
Compact & Made out of Plastic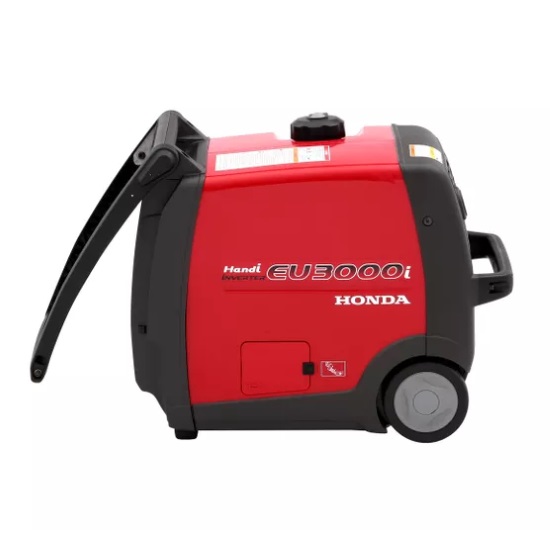 We have analyzed a lot of generators by Honda, and we have to say that the EU3000i Handi is one of our favorites. The first thing that you will notice after looking at this unit is its sturdy build and plastic covers.
Although this generator is sturdy, it has a compact size:
24.5″ (62.2 cm) Length
14.9″ (37.8 cm) Width
19.3″ (49.0 cm) Height
78 lb (35.38 kg) Weight
This unit has one folding handle that is placed above the control panel and another one that is fixed on the back side of this generator. This way, you can lift Honda EU3000i Handi easily either alone or with someone else.
On top of this generator, there is a plastic fuel filler cap with a vent lever.
On the bottom of this unit, there are two circular, flat "feet" that are keeping the body of your generator slightly elevated above the ground. 
Sadly, we doubt these will prevent your generator from sinking into soft ground. Two small plastic wheels will help you to transport this unit on a flat, firm surface easily.
There are also several maintenance covers provided.
These are relatively easy to remove to perform necessary maintenance. One is located on the right side and allows access to the oil fill cap, one is on the bottom side and allows for very tight access to the oil drain plug, and two covers on the back side provide access to a muffler, spark plug and air filters.
The front side of this unit has a control panel with outlets while the back side has a muffler with a spark arrestor. 
The best part? Front and rear plastic covers also have several venting holes that provide for better air circulation and heat transfer.
EU3000i Handi Engine
Quiet, Reliable & Lightweight
The EU3000i is equipped with a gasoline powered Honda GX160 engine that provides superb durability and reliability. This is an air-cooled, single cylinder, 4-stroke, overhead valve type of engine that has a displacement of 163 cubic centimeters and provides 4.8 horsepower.
This engine can only be started by a manual recoil pull start.
Thanks to the automatic mechanical decompression system, the amount of force needed to start the engine is significantly reduced. The GX160 engine is lightweight, compact, extremely quiet, has automatic low-oil shutoff protection, and has a carburetor with a fuel filter to avoid clogging by impurities.
In general, we consider Honda engines to be one of the best brands on the market.
Produced Power
clean & Stable with less than 3% THD
As already mentioned, the EU3000i Handi by Honda is an inverter type of generator that produces 2,600 running and 3,000 starting watts. The generated power is a single phase with 120 volts AC and has a frequency of 60 Hertz.
Thanks to the integrated high-speed combination of flywheel/alternator and the special microprocessor, the produced power is very clean and has a stable "sine wave".
The total harmonic distortion is less than 3%. This way, you can also run the most sensitive electronics such as laptops or computers without causing interruptions or damage to your appliances.
Not only that, this machine can generate unregulated 12 volts DC power. To learn what you can power with this generator, check out our article here: What Can You Run on a 2000 Watt Generator?
CONTROL PANEL
Easy-to-access Start switch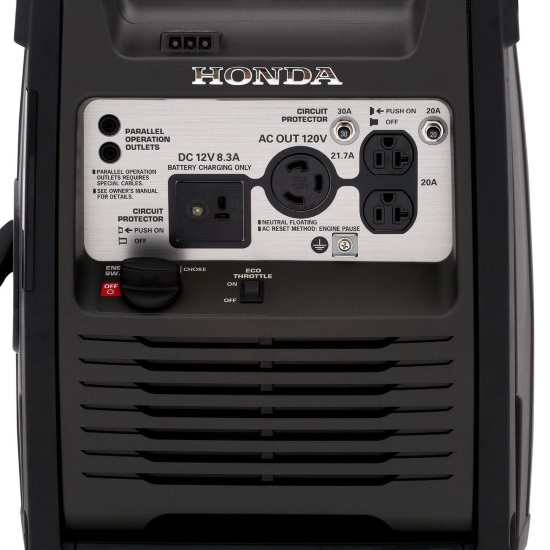 As already mentioned, the control panel is located on the front side of this generator. The first thing that you will notice is the fact that Honda has designed an angled part of the control panel that includes both a start switch and the Eco-Throttle switch.
This way, you can easily operate EU3000i Handi also from above.
The start switch has three positions: off, on, and choke. Also, there is an Eco-Throttle switch that reduces fuel consumption and automatically adapts the engine´s rotations to the actual load.
Not only that, there are both grounding terminal and three indicators as well:
Output Indicator – The first indicator is green and signals that the generator is producing electrical power at all outlets. It also blinks according to the cumulative run time of your generator.
Overload Alarm – The second red light indicator turns on if your generator is overloaded. After approximately four seconds, the current to your appliances will shut off while the engine will continue to run.
Oil Alert – The last, red light indicator goes on in case the oil level in the crankcase goes beyond the safe level. Once this indicator goes on, your generator should automatically turn off.
The control panel also provides four outlets. There are two 120V AC outlets (20A), one twist lock 120V AC (30A), and one 12V DC outlet (8.3A). The DC outlet provides unregulated output and is suitable only for charging automotive batteries.
Just keep in mind that these outlets are not GFCI protected.
The Honda EU3000i has parallel operation outlets as well which enable the connection of two units. This way, you can easily double the amount of power you will be able to get. Just see page 30 in the Owner´s Manual for parallel connection first.
One thing we have also noticed about the EU3000i Handi control panel is the fact that both the circuit protectors and the Eco-Throttle switch are small so they may be hard to press/operate with work gloves on your hands.
FUEL SYSTEM
Decent run time with limitations
The Honda EU3000i Handi runs on gasoline. This generator is equipped with a 1.56-gallon plastic gas tank. The plastic fuel filler cap is located on the top of this generator and includes a vent lever.
Under the filler cap, there is a fuel filter that catches any debris or dirt that could get into your tank at refueling. There is also a red, upper fuel level mark that is easy to read and will prevent you from overfilling your generator.
This unit can run for 3.5 hours at full load (or 7.7 hours at 25% load).
Also, there is a manual fuel shutoff valve built into the engine switch itself. Sadly, there is not a position on the switch that would close the fuel valve without stopping the engine to allow the carburetor to run dry before storage.
There are two other things we do not like about this generator with regard to its fuel system; it lacks a fuel gauge and an electronic fuel injection system.
EXTRA FEATURES
Quiet, EPA & CARB compliant inverter
One of the most impressive features of the EU3000i Handi we observed was its ability to run quietly. Thanks to the compact build, noise-reducing materials and an effective muffler, this unit produces only 52 dBA at 25% load (58 dBA at 100% load).
Also, the muffler is equipped with a USDA-qualified spark arrestor, so chances of setting dry vegetation on fire are minimized. This way, you can safely operate EU3000i Handi even in nature.
What is more, the engine of this generator has both EPA (the United States Environmental Protection Agency) and stricter CARB (California Air Resources Board) compliance certifications with regard to the number of emissions produced.
Sadly, Honda did not build a voltage-meter nor a precise hour meter into the EU3000i. Also, provided outlets are not GFCI protected.
Basic Maintenance
Some parts are harder to reach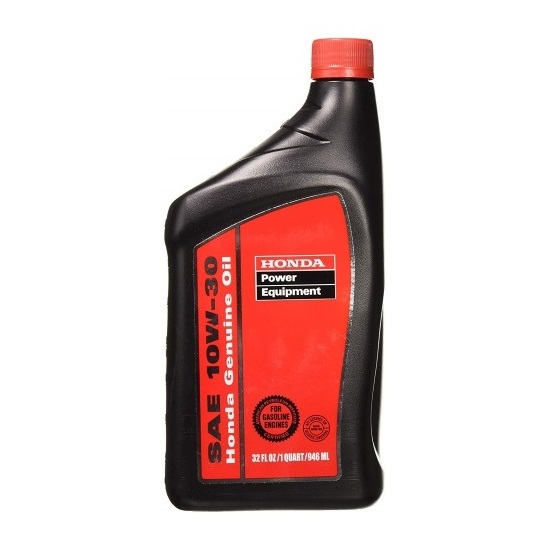 The EU3000i Handi generator has a compact build and a completely enclosed body. This makes regular maintenance a little bit more complicated as there is not too much space for your tools.
There are four main maintenance covers.
The one on the right side of this generator provides easy access to the oil fill opening. Filling this generator without an oil funnel is not that comfortable as you will need to tilt this machine.
Another maintenance cover is located on the bottom side of this generator and provides very tight access to the oil drain plug. It is quite hard to reach, and you will need an extension if you are going to use a socket wrench.
There are also two other maintenance covers on the back side of this unit that are fixed into place by a maintenance screw. Under the one on the left side, you will find a muffler with a spark arrestor and a spark plug. 
The plug is relatively easy to replace as there is enough space to put a socket or a spark plug wrench on it.
Under the one on the right side, you will find both air filters.
If you want to know how well any generator performs, you should take a look at reviews written by other customers. Don't forget to look at Amazon's "Verified Purchase" customer reviews.
EU3000i VIDEO SECTION
Official video Tips from Honda
We believe that seeing is more than reading. That is why we have created this video section. If you want to see more videos by Honda, then have a look at the list below:
There is a lot of information in these videos that will help you to understand this generator better.
EU3000i Pros
Summary of advantages
In general, Honda generators are considered to be the best machines on the market. After critically assessing the EU3000i Handi model, we have identified several features worth pointing out:
Small & lightweight inverter – This unit has a compact size and low dry weight. This makes it perfect for those of you who are often on the move and need a small power source while camping or RVing.
Runs quietly (52 – 58 dBA) – The EU3000i is also one of the quietest inverter generators on the market. Your neighbors will thank you if you spend extra money on a quieter unit.
Durable & reliable Honda engine – Everybody knows the name, Honda. Their machines are famous for their durability and reliability. If you have extra money, go for a generator with a Honda engine.
Clean & stable power (< 3% THD) – The total harmonic distortion is less than 3%. The produced power is stable and clean. That is why you can run even the most sensitive electronic devices with microprocessors such as laptops on EU3000i.
Parallel operation outlets – We love the fact that EU3000i is parallel ready. This way, you can connect two units to double the amount of power.
Angled control panel – Honda has designed an angled part of the control panel that includes both the start switch and Eco-Throttle switch. This way, you can easily operate EU3000i Handi also from above.
Eco-Throttle switch – This is an excellent feature that significantly reduces fuel consumption and noisiness. It automatically adapts the rotations of your engine in relation to the actual load.
As you can see, Honda did a good job designing and constructing the EU3000i generator.
EU3000i Cons
Summary of Disadvantages
Our Generatorist team has analyzed this machine. Although this machine is excellent, it is not perfect. There are some things we did not like about this unit:
Control buttons are small – After taking a detailed look at the control panel of EU3000i, we have noticed that the Eco-Throttle switch and breakers are small. This makes them harder to operate with work gloves on your hands.
The fuel gauge is missing – We have looked all over this unit, but we have not found any fuel gauge. Luckily, the fuel tank is relatively small, so the best idea is to always top it up before starting this unit. This way you will know you have a full tank available.
No automatic draining of carburetor – Sadly, the EU3000i Handi can not be left running with a closed fuel valve to empty the carburetor automatically. You will always have to drain your carburetor manually.
There is no voltage meter – The Honda EU3000i has no voltage meter available. This is a useful feature that will enable you to control the voltage your generator produces. Some machines may be defective and deliver an undesired amount of volts that may damage your appliances.
The hour meter is not precise – Having an accurate hour meter will help you to plan maintenance of your generator correctly. Sadly, Honda EU3000i provides only a blinking LED light as a symbolic hour meter. The frequency of blinking will indicate the cumulative run time of your unit.
It is expensive – Honda generators, in general, are among the most expensive units on the market. Although their engines are of excellent quality, you need to get ready to pay a lot of money.
Despite these, we still consider this generator to be one of the best generators providing between 2,500 – 3,000 running watts.
RevieW Summary
What is Honda EU3000i Good for?
Based on our detailed analysis and considering all features of the Honda EU3000i generator we can conclude that this is a perfect unit for traveling and recreation.
If you are going camping, you will find the power output of 2,600 running and 3,000 starting watts to be enough to run a vast majority of camping appliances, such as:
Lights
Small heating appliances
Almost any 13,500 BTU, RV, roof-top air conditioner unit
All entertainment appliances
Fans
Blow driers
Frying pans
Freezers
Almost every smaller kitchen appliance
You can't run all these at the same time, but the EU3000i by Honda provides enough power to start and run each one of these (these numbers are general estimates – see your appliances for precise numbers). Thanks to its small size and easy-to-transport design this machine is perfect for camping.
If you are an enthusiastic RV-er, you will already know that this unit is too small to start and run every RV appliance. For example, you may be able to start any 13,500 BTU roof-top AC unit, but you will have problems with anything larger.
However, if you are going camping or need a supplemental backup source of power for your RV, then the EU3000i is more than enough.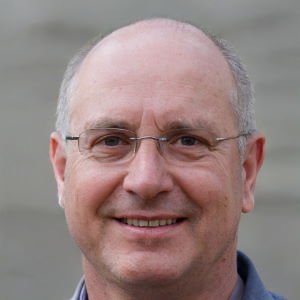 Founder, Generator enthusiast
Our aim here at the Generatorist is to become the No. 1 resource for all things related to generators & your power needs. We have helped over 600,000 visitors with our tips, articles and reviews and we will help you as well.
Our work has been featured in many publications around the world – Yahoo.com, Telegram.com, PaylessPower.com, PopSci.com, TopTenReviews.com, TechRepublic.com, iRV2.com, ThePrepared.com, Renogy.com or ADT Solar. Generators are our passion, and we strive to provide the most reliable & most comprehensive information out there.